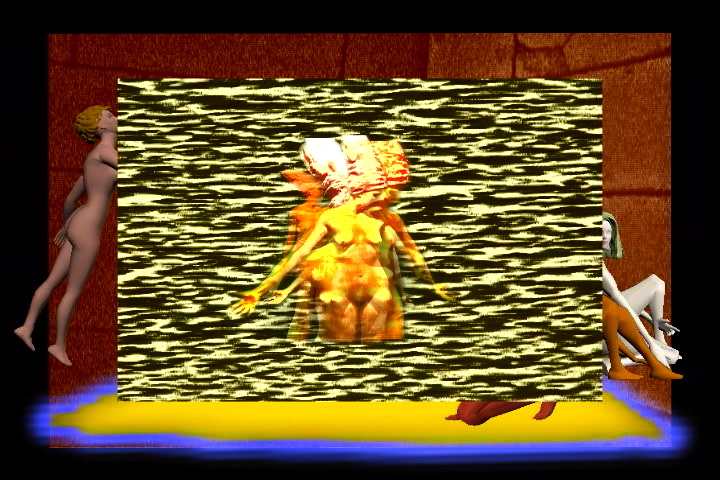 Title: The Mirror Mask
Year: 2005
Producer: Contour Mechelen vzw, James Fotopoulos
Time: 110min 50sec
Format: Video (color)
Sound System: Stereo
Synopsis: The Mirror Mask was created as a commission for the 2005 Contour Biennial of Video Art and was originally exhibited in a multi-channel format with drawings. The feature-length edit was made simultaneously. Working from the Biennial's theme of feminine power, the video's exploration uses symbols from both Flemish and Egyptian art reinterpreted through CGI, latex sculptures and low-tech animation programs – The images of the past translated onto a frozen computerized canvas.
The Mirror Mask was originally exhibited as a nine-channel installation:
Title: The Mirror Mask Part 1
Year: 2005
Producer: Contour Mechelen vzw, James Fotopoulos
Time: 7min 02sec
Format: Video (color)
Sound System: Silent
Title: The Mirror Mask Part 2
Year: 2005
Producer: Contour Mechelen vzw, James Fotopoulos
Time: 10min 34sec
Format: Video (color)
Sound System: Silent
Title: The Mirror Mask Part 3
Year: 2005
Producer: Contour Mechelen vzw, James Fotopoulos
Time: 10min
Format: Video (color)
Sound System: Silent
Title: The Mirror Mask Part 4
Year: 2005
Producer: Contour Mechelen vzw, James Fotopoulos
Time: 9min 45sec
Format: Video (color)
Sound System: Silent
Title: The Mirror Mask Part 5
Year: 2005
Producer: Contour Mechelen vzw, James Fotopoulos
Time: 10min 21sec
Format: Video (color)
Sound System: Silent
Title: The Mirror Mask Part 6
Year: 2005
Producer: Contour Mechelen vzw, James Fotopoulos
Time: 13min 57sec
Format: Video (color)
Sound System: Stereo
Title: The Mirror Mask Part 7
Year: 2005
Producer: Contour Mechelen vzw, James Fotopoulos
Time: 14min 20sec
Format: Video (color)
Sound System: Stereo
Title: The Mirror Mask Part 8
Year: 2005
Producer: Contour Mechelen vzw, James Fotopoulos
Time: 13min 50sec
Format: Video (color)
Sound System: Stereo
Title: The Mirror Mask Part 9
Year: 2005
Producer: Contour Mechelen vzw, James Fotopoulos
Time: 54sec
Format: Video (color)
Sound System: Stereo